Archieves
June - July 1998
August 1998
September 1998
October 1998 - Stopped Updating
'The Wombles Annual 1999' is out in the shops! It is filled with stories, pictures and shows you how to make your own 'Wombles litter bag'!!!! A must buy.
You may have read about the new Wombles album down the page a bit. I have now added the track list to my site. I have not yet updated the links to this new compilation album on the lyrics pages, nor have I found any more information on the new song I have found. I have recently been held back a bit on this page, if you would like to help me produce my site, could you e-mail me. The work will include correction links, pages and other minor corrections. You must have a knowledge java script/applets and HTML. It would also be good to have an internet connection. :) Don't bother apply if you do not know me, as I will certainly not trust you with my password!
New updates. I had noticed that the frames with different colours did not show the downloads site, so I have updated them. Also I have seen that the coloured frames do not change colour when changing to another site. This will take a bit of work, so expect it to be finished by the end of the weekend. I do know that there are spelling mistakes in my pages, but I did not bother check for them, I will do this also during the weekend.
I have no time, but WoW won a game against DF earlier on, here is the scores.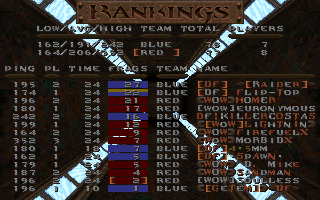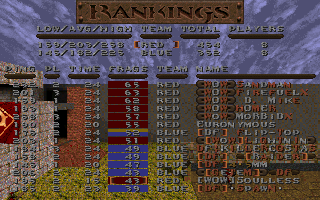 WoW and TD have merged! In DM, WoW have been rubbish. But when I met up with Diddy, he asked me to join. I decided to accept, so any WoW who are good enough, feel free to join. You may know I used to be in TD for both TF and DM, so I know we are good. If you want to visist the TD web site, you will have to wait for a while, because I am making it :). Watch this space in teh next month for more information. You may also see more WoW cadets in TF being TD DM players, it will be good practice for them :).
I have started my database of TF players on Wireplay. I know it is a big task, but I hope to have an accurate account of most people in clans soon. Then I can upload all the info onto my web site :). If you know definate statistics about you or a friend, please stick it into my Excel template and -mail it to me. Thank you for your help.
I have now finished the singles page in the sound section, at last! I have, in my travels, also found the trail of a new song 'Womble Burrow Boogie'. I am trying to get some information about this single, so if you can help me, please do!
The Don, Valium and Soulless have left WoW. They were not members of the league team so it does not matter, but it is sad to see three people go at once. The Don has joined RVM as Spud. Valium has either left Wireplay, or is Omega, I am not sure. Soulless has started his own clan. Crow has contacted me saying that he will not be around much, but he is still in WoW. Some good news is that Defiant (previous AVA) wants to join us. While we are speaking of that sort of stuff, I will put up a little list of what I believe would be our good team. E-mail me if you do not like your position.
| | |
| --- | --- |
| Players | Class |
| Firefuel | Pyro |
| Morbid | Engineer |
| Sandman | Demoman |
| Dangerous Mike | Sniper |
| Hellfire | Soldier |
| Homer | Soldier |
| Defiant (Euro) | Demoman |
| Smurf | Medic |
I was wombling the web when I found a new Womble Album!! I will be updaating my sounds page soon, with the new album, and hopefully more sounds. It album is called 'The Best Wombles Album So Far'.
I have started my downloads page, which will be for members only. It will be ready shortly. The password system has a few annoying features, so if someone is trying different passwords, my system will slow their progress down, and waste their time. I have also cut through the problem of the frame matching the different colours of the mani frame. I created a new html with the frameset of the coloured frame, and the first page of the different coloured sections. It does not make much difference, but I think it looks nicer :)
I have dug out Gambitx's old page for the WoW site. I decided to upload it because some of the new people wont have seen it. Also on the subject, all od WoW had a two minute silence at practice today, and put a X at the end our our names to show our respect.
Links page updated with lots of interesting places to see.
I have uploaded some new Womble skins made by Sandman (Although I think he may have used a Wombly template :) I do not have a downloads section yet, so they are available here:
Sound page updated. I have completed the track list pages, and also made a new track list page for 'Wombling Hits'. I have continued the links on al the pages, to get ready for a no framed version. I am temporary leaving the Womble singles page until I finish the other stuff.
Updated TF league team. I have also updated the cadets, Dm and advanced cadet list. Some people have quit, some were asked to leave....
Here it is:
| League team | Cadets | Advanced Cadets |
| --- | --- | --- |
| Firefuel | Dr Newbie | Soulless |
| Dangerous Mike | James | Valium |
| Homer | Skooby | The Don |
| Smurf | Lots of Spaces | Only five slots for |
| Hellfire | E-mail me! | advanced cadets!!! |
| Morbid | Lots of Spaces | ****************** |
| Sandman | E-mail me! | ****************** |
| Crow | Lots of Spaces | ****************** |
| | |
| --- | --- |
| Not Heard From | Dm Team |
| Wiggy | Firefuel |
| ****************** | Homer |
| Get in touch! | Sandman |
| ****************** | Lightnin |
| Get in touch! | Jaspa |
| ****************** | Gow |
| Get in touch! | Scumsucker |
| ****************** | Evilseed |
I have just about finished the lyrics on my site. There are about five songs that I do not know the words for, so if you know them, please e-mail me. I have added 3 midi files and one wave sample.I do have plans to get more sounds, but I will probably wait until I can get more web space. If you want to sponser me, or give me lots of web space, I will happily advertise you and accept your money :).
Wireplay has updated their servers to Quake World 2.3!!! If you have not already got it, you can download it from 29th August. I have just downloaded Quake World 2.3 client and server.It is now freely avaiable from Quakeworld.net or while on Wireplay.