This is Great Uncle Bulgaria's March, enjoy!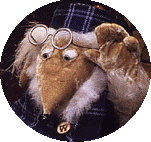 Great Uncle Bulgaria is very old and his fur has turned snow white with age. He needs two pairs of spectacles because his eyes are getting old. He wears a MacWomble tartan shawl to keep him warm. Great Uncle Bulgaria is strict at times, but he has a very kind heart and he is very wise. The young Wombles believe that he knows everything. Great Uncle Bulgaria sometimes thinks he does too.
Great Uncle Bulgaria's Quake skin has been produced by Matt Wells, and the beta is available here. It is in PCX format which is used by Quake World. If you are not sure how to use the skin, I will be producing a help page soon. Don't bother e-mail me to say that it is rubbish and have no detail. I made the skin like that so they would look funny.