This is the midi file of Tobermory. If you would like to sing along to it (it could happen), the go to the lyrics. Tobermory is also i the song 'Tobermory's Music Machine'.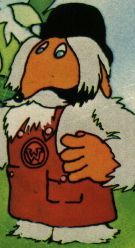 Tobermory is the Womble that works with his hands. He has a brown overall, a black hat and a grey moustache. Tobermory is in charge of the Workshop where he makes new invention from the rubbish that the working Wmbles bring in to him. He is good friends with Great Uncle Bulgaria and they often have a grumble about some of the rather silly things that young Wombles get up to.
Tobermory's Quake skin has been produced by Matt Wells, and the beta is available here. It is in PCX format which is used by Quake World (you need colour 6 for him to hae his overall brown). If you are not sure how to use the skin, I will be producing a help page soon. Don't bother e-mail me to say that it is rubbish and have no detail. I made the skin like that so they would look funny.